OddCameras.com SKF-1 Stereo Attachment

The SKF-1 Stereo Attachment was produced from 1985 until 2003 by the Fotopribor factory in Cherkassy, Ukraine. There are still NOS (new old stock) items around. The adapter was probably inspired by the Pentax stereo attachment, a similar beam splitter device, available for different Pentax lenses. The Pentax is a very close copy of the American Stereo-Tach, once sold in the 40s by the Advertizing Display Inc., Covington, Kentucky. All these systems consist of a beam splitting device to bring 2 stereo pictures on one 24x36 frame of a diapositive film and a viewer attachment to covert the beam splitter into a viewer device for stereoscopic diapositives.

The SKF-1 Stereo Adapter was made for a Helios 58mm lens on a Zenit SLR camera.

The system used is different from other stereoscopic slide systems. As the stereo pair sits side-by-side on one single frame, it has to be optically separated to the usual visual distance via a mirror system. And as the same optical procedure has alreday been applied for taking the picture, you just have to turn around the attachment, add two viewing lenses and put the slide on the other end, where the camera was initially.

Dimensions: 120 x 55 x 50mm (W x H x L)
Weight: 223g

Some pictures: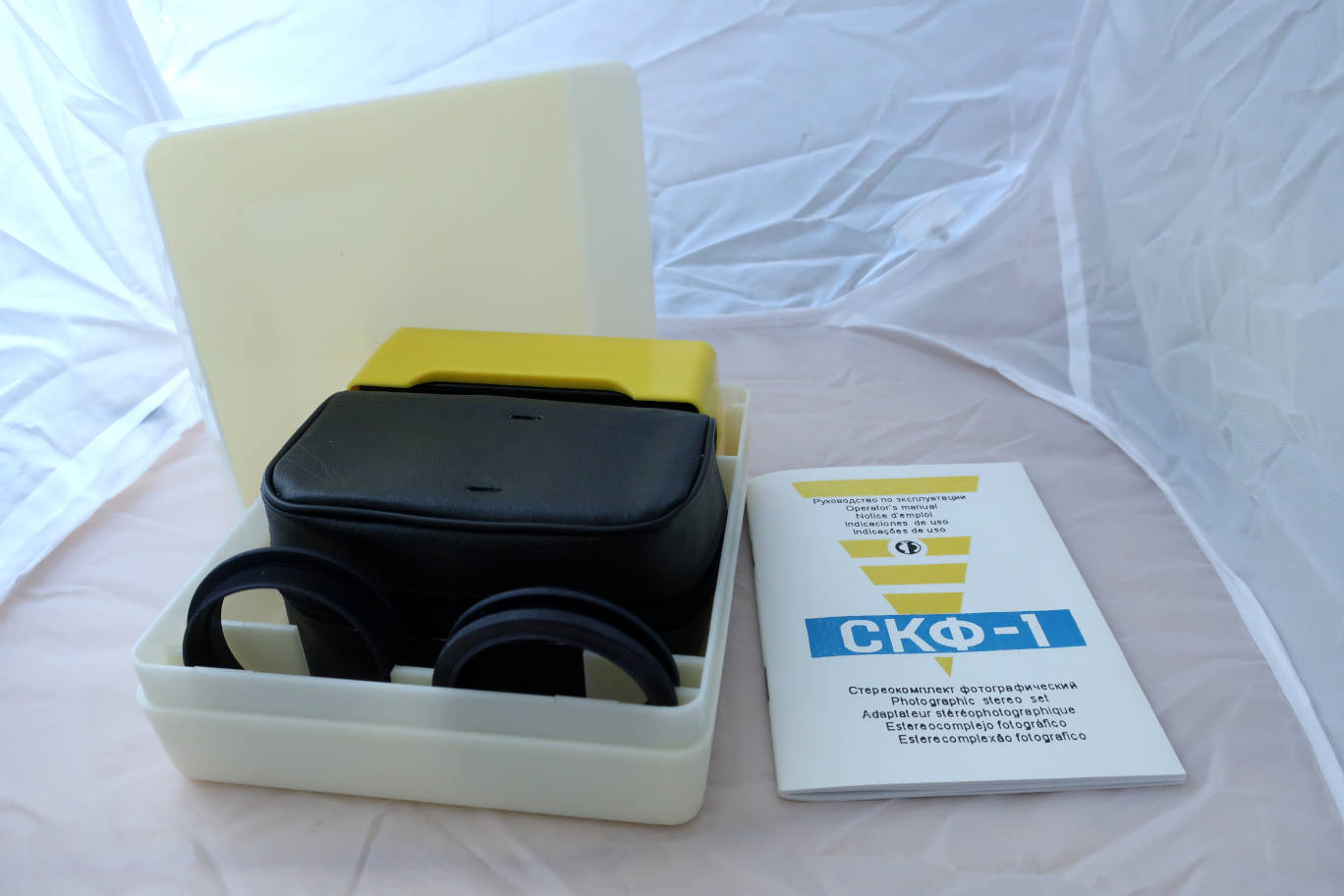 NOS (new old stock), never used.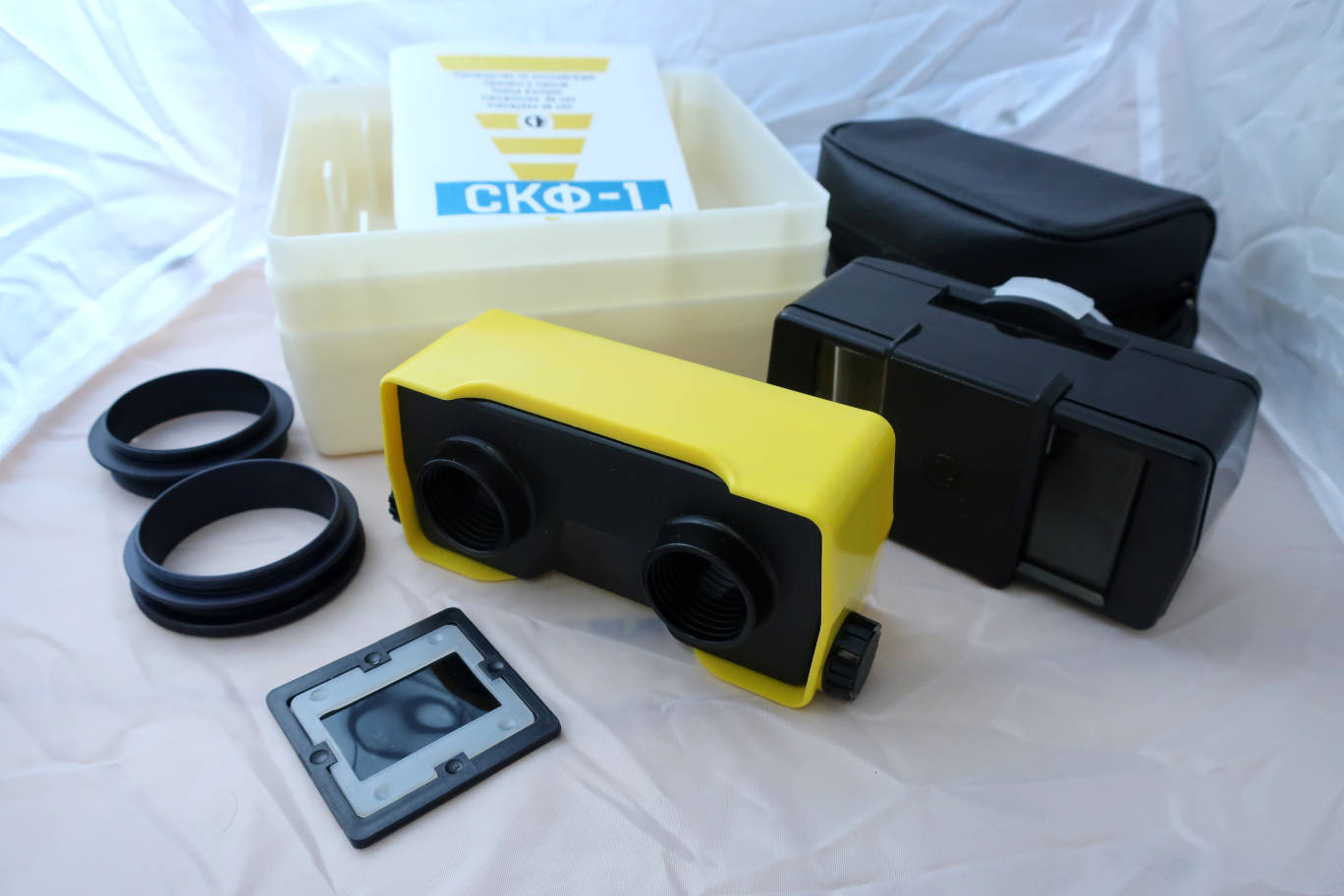 The box, the beam splitter system with a diffuser on it and a pouch, the viewer part, 2 adapter rings, a sample picture and instructions.



Same parts.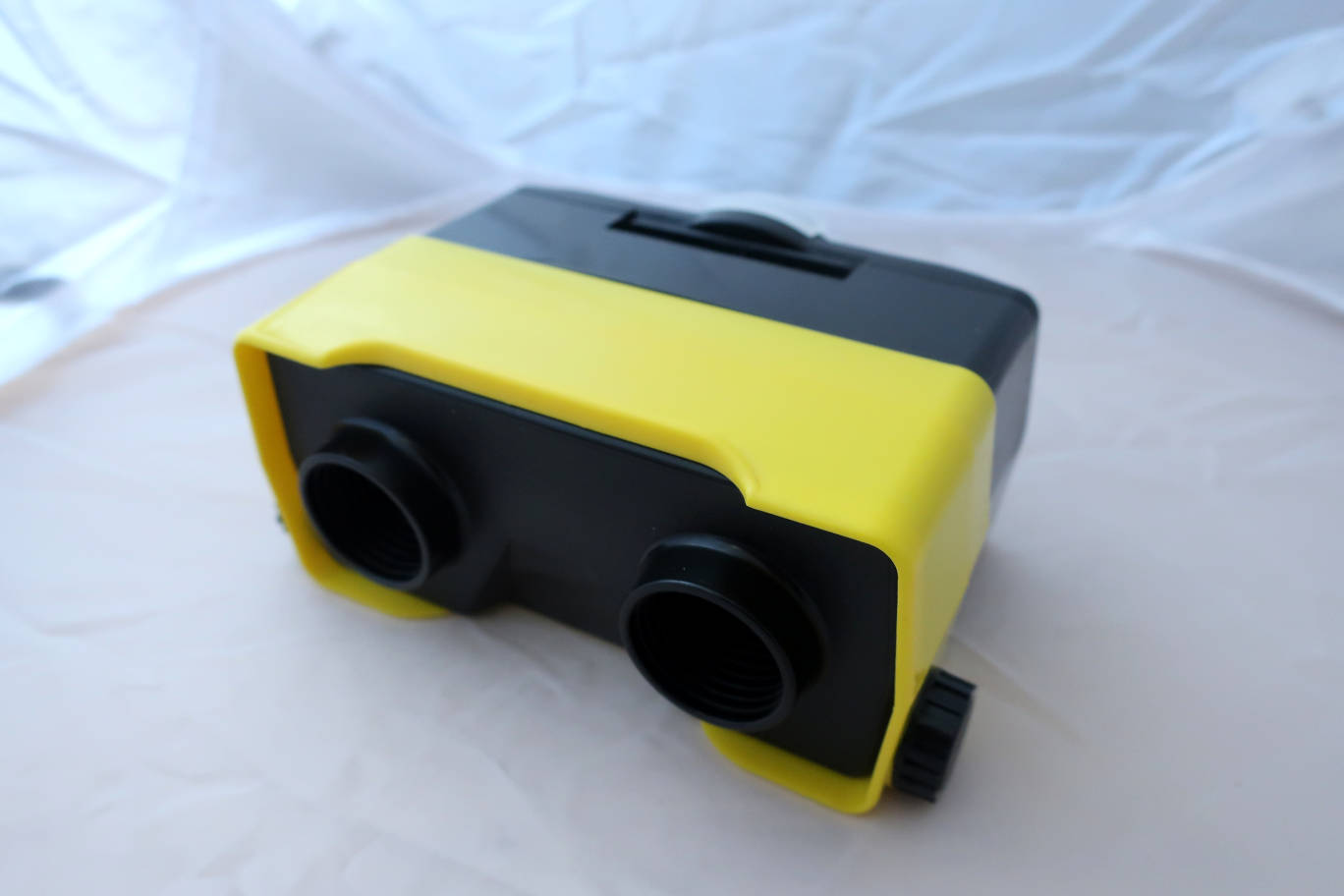 Mounted as viewer. There is a slit to put the slide and you need to install the diffuser.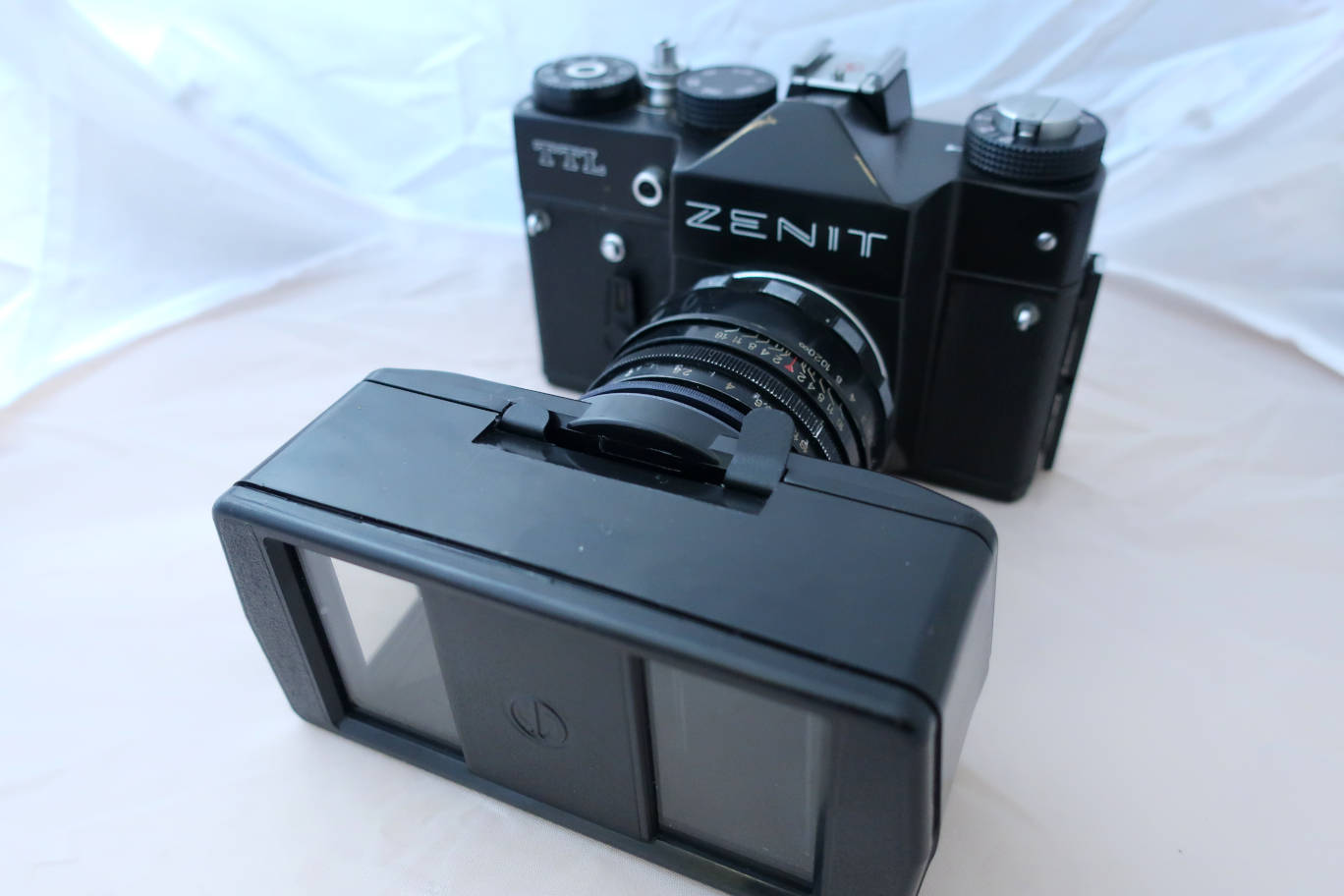 System mounted on a Zenit camera..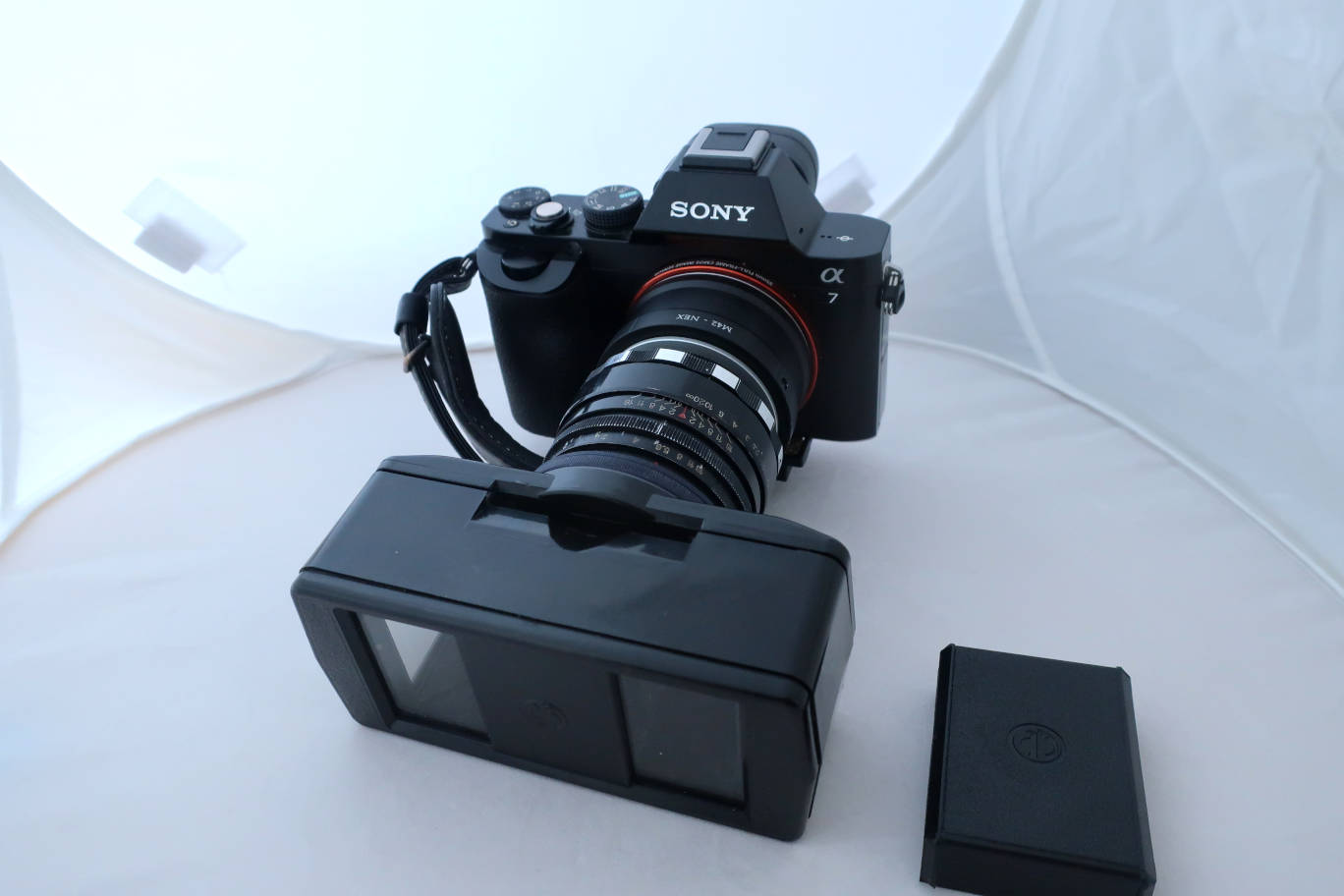 System mounted on a Sony A7. The black plastic part is needed for pictures at F2 and F2.8 aperture to separate the stereo pair.

The beam splitter system is not easy to use at all. You have to attach it to a 58mm Helios 44 lens via one of the screw adapters. There is a counter-screw ring on the adapter ring which helps to align it horizontally. It works best at F4 and F5.6. At F2 and F2.8 you will have to use the plastic attachment on the front to to separate the 2 pictures of stereo pair, otherwise they mix into each other. from F8 onwards a black line appears between the 2 pictures, in grows at F11, F16 is unusable.

The Helios lenses I have are not the most contrasty ones. The system brings a lot of flair and reduces contrast sensibly. It also absorbs a lot of light. In the end I was left with dull images. I will try to test in with other lenses later and see, whether it can be used like the Loreo 3D system to produce paper prints.

The viewer system seems to be fine.